Anna's Weekly Report

Dear friends,
This week marked the beginning of Black History Month, a time to honor the achievements of Black Americans throughout our history. As we celebrate, we also must reckon with America's dark history of injustice by recommitting to ending systemic racism that remains with us today. This month and all year, I'm committed to passing legislation rooted in justice and equity. 
This week we received the wonderful news that the FDA announced full approval of the Moderna Covid-19 vaccine for people 18 years and older. This means the Moderna vaccine meets the FDA's highest standards for safety, effectiveness, and manufacturing and is no longer under an Emergency Use Authorization. I applaud the FDA's career scientists and leaders for their work, and encourage those who have been hesitant about the vaccines to sign up for inoculation as soon as possible for their own health and for the public's health.

And more good news. This week Pfizer submitted their Covid-19 vaccine for children ages 6 months to 5 years old to the FDA for approval. This would be the first vaccine approved for this age group, our smallest angels.

If you haven't received your vaccine or booster, you can sign up immediately for a free appointment at your County's website below.
San Mateo County           Santa Cruz County           Santa Clara County
Major Votes in the House This Week
America COMPETES Act
This week I voted for and the House passed the America COMPETES Act, a comprehensive legislative package to reinforce our supply chains, bring manufacturing of critical goods back to the U.S., boost American scientific and technological leadership, enhance our national security, and strengthen our global competitiveness. America is the most innovative and competitive economy in the world, yet we have work to do in order to ensure we continue our leadership and address the areas of our economy where we are lagging.
The bill includes $52 billion to fund the CHIPS for America Act. This will boost the domestic production of semiconductor chips, which I'm proud to cosponsor. Today, 65% of these chips are manufactured in Taiwan, making the U.S. reliant on a foreign country for a critically needed product. Chips are used in thousands of products, including cars, cellphones, appliances, gaming consoles and medical devices.
The package also includes $45 billion to support the manufacture of critical goods and equipment that are essential for our national security and our economy. This investment will prevent supply shortages and create good-paying manufacturing jobs in the U.S.
The America COMPETES Act also includes five of my bills and two of my amendments, which are outlined below:
The Investing in Domestic Semiconductor Manufacturing Act: This bipartisan and bicameral legislation ensures microchip manufacturing tools and materials are made domestically, creating good paying American jobs and improving the resiliency of our domestic semiconductor industry. 
 
The Understanding Cybersecurity of Mobile Networks Act: This bipartisan bill will give policymakers a better understanding of the state of cybersecurity in our wireless networks, which is a matter of national security. 
 
The American Cybersecurity Literacy Act: This bipartisan and bicameral bill establishes a cybersecurity public education campaign to give the American people the tools to identify cybersecurity risks and protect themselves from attacks. 
 
The Improved Transparency of Foreign Drug Manufacturing Act: This legislation directs the FDA to collect additional information on a quarterly basis of all drugs and the active pharmaceutical ingredients (APIs) that are manufactured overseas. This will help to better identify the drugs that are most dependent on foreign supply chains. 
 
The Improving Cybersecurity of Small Businesses, Nonprofits, and Local Governments Act: Bipartisan and bicameral bill which directs the Cybersecurity and Infrastructure Agency (CISA) to publish recommendations that small businesses, nonprofits, and local governments may employ to improve their cybersecurity.
 
An amendment to require a Government Accountability Office (GAO) study on how the federal government can respond to the semiconductor shortage using demand-side incentives (i.e., role of government as a buyer of technology).
 
A requirement directing the President to ensure that the provisions of the America COMPETES Act that are aimed at countering the influence of the Chinese government are implemented in a manner that does not result in discrimination against people of Asian descent.
Ukraine and Russia Update
On Thursday of this week I attended a classified briefing for all Members of the House of Representatives regarding Ukraine and the aggressive posture of Russia. We were briefed by Secretary of State Antony Blinken; Secretary of Defense Lloyd Austin; Secretary of Homeland Security Alejandro Mayorkas; Director of National Intelligence Avril Haines; and Chairman of the Joint Chiefs of Staff General Mark Milley. 
Because it was a classified briefing I cannot provide content. What I can share with you is how important the 'whole of government' approach across many branches of government is, and that it's led by our nation's superb top experts who are doing everything possible through tough diplomatic efforts to avoid war. Should Russia invade Ukraine, it would be the largest invasion since World War II.
Legislation Anna Introduced
Condemning Burmese Military on Anniversary of Coup
I introduced a bipartisan resolution on the anniversary of the coup in Burma condemning the Burmese military for perpetrating gross violations of human rights against the Burmese people. The resolution calls on the Burmese military to cease all violence against peaceful protesters, release all political prisoners, allow unfettered humanitarian access throughout the country, and engage in constructive dialogue with all parties to negotiate a pathway to democracy.
The DEPICT Act
This week I introduced the bipartisan Diverse and Equitable Participation in Clinical Trials (DEPICT) Act, legislation aimed at boosting diversity in clinical trials. The bill requires drug manufacturers to set diversity targets for clinical trials to ensure enrollment accurately reflects the population that will benefit from new treatments. Manufacturers will have to justify these targets, provide an action plan on how they intend to meet them, and provide an explanation if they fail to do so. The bill also provides grants to Community Health Centers to help make clinical trials more accessible for underrepresented groups.
Diverse clinical trials are critical to ensuring that all Americans can be confident that the treatments being developed work for patients, regardless of their backgrounds. Today's clinical trials overwhelmingly fail to achieve a level of diversity reflective of the disproportionate burden of diseases, such as Covid-19, on underrepresented racial and ethnic communities. 
Weekly Highlights
Caltrain Electrification Event
Last week, I joined local officials in the Bay Area to celebrate the installation of the last of 3,092 electrical foundations to electrify Caltrain, completing the construction of the infrastructure for an electric railway. Electrification modernizes this 150-year-old railroad, improving local air quality by 97 percent, offering faster service, and carrying the equivalent of 5 ½ freeway lanes of traffic every hour. This is the world-class, modern, and climate-friendly electric transit system that our innovative region deserves.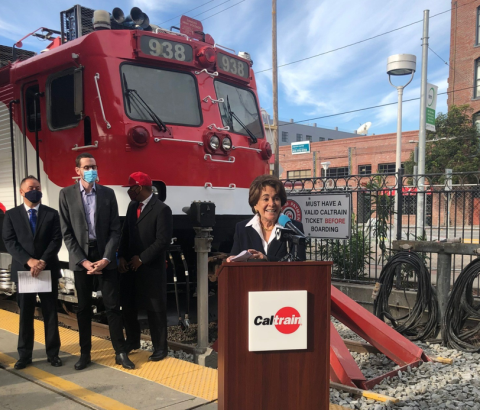 American Women Quarters Program
It was wonderful to kick off the American Women Quarters Program with many House colleagues with the release of the Maya Angelou quarter, the first U.S. coin depicting a Black woman. The accomplishments of Maya Angelou include being a leader in the civil rights movement, an accomplished poet laureate, and a college professor. 
This four-year program will put the faces of American women on U.S. quarters and will feature other honorees Sally Ride, Wilma Mankiller, and Ana May Wong. The distribution of coins will begin later this year and the Treasury Department will announce additional 2023 honorees in the coming months. It was moving for me to hold the actual outcome of legislation I cosponsored in my hand.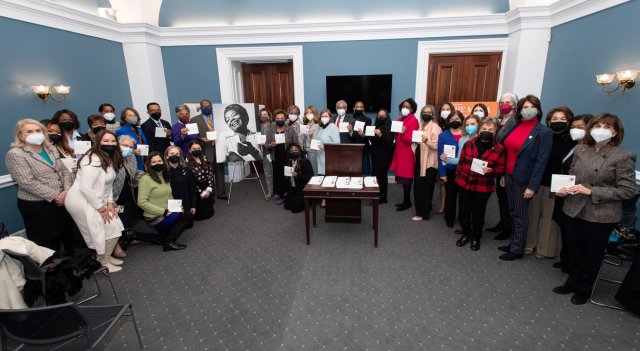 In the Words of My Constituents
Every week hundreds of my constituents call and write to me to express their concerns, share their passions, and ask questions regarding legislation and policies. Over 148,271 constituents have contacted me so far since the 117th Congress started in January, 2021. I actually read every communication and every constituent receives a personal response to their specific questions and comments from me. This week, 1,619 constituents contacted me about issues including:
108 messages in support of strengthening Medicare Advantage
 
84 messages in support of regulating Big Tech
 
59 messages in support of reforming the Supreme Court
Anna in the News
Anna's Recommended Reading
# # #
I close with this thought. Always know how deeply grateful I am for the trust you've placed in me to represent you. I work daily to live up to it.
Sincerely, 



Anna G. Eshoo
Member of Congress