Anna's Weekly Report

Dear friends,
The 2022 Winter Olympic Games opened last Friday and as of today, the U.S. has earned 10 medals (and counting). I'm so proud of Vincent Zhou. He won a Silver Medal with his Figure Skating Team and is a resident of our Congressional District. He's brought great distinction to our community and our country.
Pfizer announced today that they are postponing their application to the FDA for the vaccine for children 6 months to 4 years old which will set back the timeline for vaccines for young children. Instead, Pfizer is waiting on data for their three-dose vaccine, which may provide a higher level of protection. Data on the three-dose vaccine is expected in early April.
Every week I write to urge those who haven't been vaccinated or boosted to do so. You can sign up immediately for a free appointment at your county's website below and it's very easy to do.
San Mateo County           Santa Cruz County           Santa Clara County
Hearing on ARPA-H
I held a hearing this week of the Health Subcommittee, which I chair, to discuss legislation to create the Advanced Research Projects Agency for Health (ARPA-H), an independent agency focused on accelerating biomedical innovation to develop transformative breakthroughs in how we detect and treat the deadliest diseases. The agency would be modeled on the Defense Department's DARPA, which developed ARPANET (the precursor to the modern internet), GPS, and so many other foundational technologies. In March of last year I met with President Biden, together with a small bipartisan, bicameral group of Members to discuss a new effort to pursue the deadliest diseases we have yet to conquer.
Several of the country's leading biomedical experts testified at the hearing, and they impressed upon the Subcommittee that establishing ARPA-H is one the most important actions Congress can take to facilitate bold ideas that bring breakthrough biomedical discoveries forward. They stressed the importance of ARPA-H having the same innovative and independent structure as DARPA which is nimble, efficient, and independent. The creation of ARPA-H is my top legislative priority this year, as it will facilitate cross-sector and cross-disciplinary collaborations to take major leaps forward in the biomedical sciences.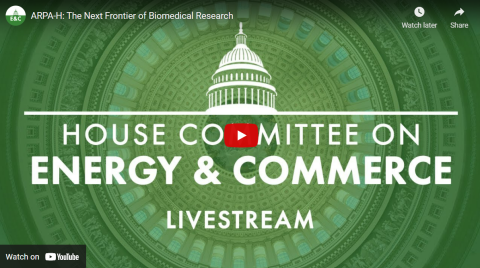 Major Votes in the House This Week
Postal Service Reform Act
This week I voted for legislation that is the most significant overhaul of the Postal Service in nearly two decades, aiming to address the Agency's financial woes. USPS is the only federal agency that is required to pre-fund retiree health benefits. This has placed an enormous strain on its finances and has limited new investments to improve mail delivery.
The Postal Service Reform Act eliminates the burdensome pre-funding mandate and increases Congressional oversight and transparency of the operations and finances of USPS. It also guarantees mail will be delivered six days a week, which is not currently required by law. Without this legislation, experts projected that USPS would run out of funding as soon as 2024. The Postal Service is an essential one, and the Framers thought it was so important that they placed it in the Constitution.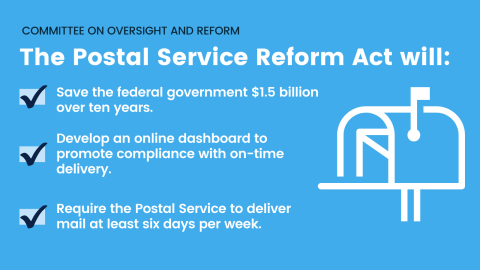 Ending Forced Arbitration of Sexual Assault and Sexual Harassment Act
I voted for legislation this week that will ensure sexual harassment and sexual assault survivors can exercise their right to file a case in a court of law rather than be subject to mandatory, pre-dispute arbitration ("forced arbitration") requirements. Many employment contracts require survivors to sign away their right to seek justice in court, forcing them to resolve disputes through arbitration which often shields employers from liability and accountability. This bipartisan bill restores access to justice for millions of survivors who currently can only bring their cases against their abusers in a private system of arbitration that systematically disfavors survivors.
Letters Anna Sent This Week
Urged IRS to Halt Plan to Use Facial Recognition
This week I wrote to the IRS Commissioner Charles Rettig urging him to halt the alarming plan to employ facial recognition for Americans to access their online records. The IRS had planned to require anyone seeking their records online to provide images of their ID and take a live video of their face so that a third-party vendor, ID.me, could confirm their identity. This would have been a major privacy invasion and lead to many problems, including issues with racial minorities because facial recognition has a disparate impact on various demographic groups. Shortly after sending the letter, and the outcry of many, the IRS reversed their plans.
You can read the letter here.
Wildfire Prevention Funding
I wrote to Secretary of Agriculture Tom Vilsack with California House colleagues, urging him to ensure that California receives its fair share of the wildfire prevention funding included in the Bipartisan Infrastructure Law. More than half of forested land in California is owned by the federal government and these forests are among the riskiest firesheds in our country. Our letter calls for the U.S. Forest Service to recognize the extreme wildfire risk in our state and ensure California receives the funding it needs to effectively prevent future wildfires.  You can read the letter here.
Tax Season Tips
Tax season is officially upon us (ugh!), and this week the IRS put out some recommendations for constituents to avoid processing delays and get their tax refund as quickly as possible.
File before the filing deadline, April 18, 2022;
 
Avoid paper returns for fastest filing;
 
Ensure you enter correct information about Economic Impact Payments and Child Tax Credit payments;
 
If you don't normally file a return, consider filing a 2021 tax return so you can receive all credits you're eligible for, including Child Tax Credit payments;
 
Visit IRS.gov for refund information and answers to tax questions; and
 
IRS Free File is available to any person or family who earned $73,000 or less in 2021. Qualified taxpayers can also find free one-on-one tax preparation help across the country through the Volunteer Income Tax Assistance (VITA) and Tax Counseling for the Elderly (TCE) programs.
Telephone Town Hall Meeting
This week I held my weekly Telephone Town Hall Meeting with constituents in San Jose, with Dr. David Relman, M.D. as my special guest. He is Chief of Infectious Diseases at the VA Palo Alto Health Care System in Palo Alto. We discussed Covid-19 and legislation I'm working on.
If you missed the meeting you can listen to it here. Stay tuned for an invite to next week's Telephone Town Hall Meeting.
In the Words of My Constituents
Every week hundreds of my constituents call and write to me to express their concerns, share their passions, and ask questions regarding legislation and policies. Over 150,683 constituents have contacted me so far since the 117th Congress started in January, 2021. I actually read every communication and every constituent receives a personal response to their specific questions and comments from me. This week, 2,412 constituents contacted me about issues including:
92 messages in support of diplomatic solutions to the Russia-Ukraine crisis

81 messages in support of the Postal Reform Act

61 messages in support of the Covid-19 Price Gouging Prevention Act
Anna in the News
Recommended Reading
# # #
I close with this thought. Always know how deeply grateful I am for the trust you've placed in me to represent you. I work daily to live up to it.
Sincerely, 



Anna G. Eshoo
Member of Congress