Anna's Weekly Report

Dear friends,
Last Saturday I was part of a bipartisan, bicameral call with Ukrainian President Volodymyr Zelenskyy who described the extraordinary resolve of the Ukrainian people and the increasing brutality of the Russian onslaught against their democracy. He called on the U.S. to ban Russian oil and gas imports and requested that the U.S. provide additional weapons to enable Ukrainians to carry on fighting for the survival of their democracy. As he said, "We will do the fighting but we need the tools to make the fight."
This week, Congress took additional critical steps to fulfill President Zelenskyy's requests. I voted for and the House passed bipartisan legislation to ban Russian energy imports to the U.S.; restrict Russia's participation in the World Trade Organization; and expand President Biden's authority to sanction Russian officials responsible for human rights abuses. Importantly, Congress also passed $14 billion for additional weapons and military equipment to Ukraine and increased our humanitarian response to the crisis.
President Biden announced this week that the U.S. will ban all imports of Russian oil and gas which are the lifeblood of the Russian economy. I fully support this necessary step to ensure that the American people are not subsidizing Putin's aggression.   
According to an e-survey I sent to constituents on Monday, 92% of the over 8,000 respondents in our congressional district support this action, even if it means higher gas prices; 83% of respondents said they support the U.S. providing lethal military assistance to Ukraine; and 92% of respondents said they support President Biden's decision to establish a law enforcement task force to seize the yachts, luxury apartments, and private jets of Russian oligarchs.
Covid-19 Updates
This week President Biden announced that if you already ordered your first round of free,
at-home Covid-19 tests in January, you can now request four more to be delivered directly to your home, again, free of charge. You can order these at-home tests at http://COVIDtests.gov.
Every week I urge those who haven't been vaccinated or boosted to do so. You can sign up immediately for a free appointment at your county's website below and it's very easy to do.
San Mateo County                Santa Cruz County                Santa Clara County
Major Votes in the House This Week
Government Funding
This week Congress passed what's called an Omnibus bill to fund all federal agencies through the end of the fiscal year. Our District will receive funding for worthwhile and vetted community projects that I specifically advocated for, and are listed below:
Expand education - $5.88 million
$1.5 million - San Jose Public Library Caregiver Training
 
$1.38 million - Vine Hill Elementary School Building Replacement - Scotts Valley
$3 million - Renovation of Palo Alto Museum's historic Roth Building
Decrease traffic - $2.8 million
$2 million - Traffic and Safety Improvement along the Alameda de las Pulgas Corridor - Atherton
 
$800,000 - Bicycle and Pedestrian Safety Near Woodside High School
Senior and mental health services - $2.55 million
$150,000 - Avenidas Rose Kleiner Center, Palo Alto - facilities and equipment
 
$2 million - Mental health crisis response team - Palo Alto
$400,000 - Healthier Kids Foundation - a preventive mental health program for students – San Jose
Wildfire mitigation - $1.25 million
$500,000 - Cal Poly Corporation - a Fire Break Project - Santa Cruz County
 
$750,000 - Town of Los Gatos - Fuels Reduction Project
The bill also funds the Advanced Research Projects Agency for Health (ARPA-H), a new effort focused on accelerating biomedical innovation to develop transformative breakthroughs in how we detect and treat the deadliest diseases, including cancer, diabetes, glioblastoma, ALS, and Alzheimer's. I introduced the legislation to establish ARPA-H after meeting with the President and a bipartisan, bicameral group of lawmakers in March 2021 to discuss this exciting venture. This week's funding will provide resources for the startup phase of this effort, and my legislation is needed to codify the authorities it will operate under.
Letters Anna Sent This Week
Extend the Pause on Student Loans
This week I joined colleagues in writing to President Biden urging him and his Administration to extend the pause on student loan payments through the end of the public health emergency. Our letter also urges the Administration to work with Congress to make permanent the zero percent interest rate for federal student loans. I have long called for zero interest rates on student loans to lessen the cost burdens on students and families. You can read the letter here. 
January 6th Update
Guy Reffitt, a Texas militia member who was the first Capitol insurrectionist to go to trial, was found guilty this week of five felonies for his role in the January 6th attack on the Capitol. Reffitt stormed the Capitol with a gun and zip ties and was linked to attacks on law enforcement. This trial is the first of dozens expected later this year.   
International Women's Day
This week we celebrated International Women's Day, a day to recognize the extraordinary contributions women have made to our nation. In celebration of this special day and Women's History Month, I joined Speaker Pelosi for a reception in honor of Billie Jean King, one of the greatest tennis players of all time, and all women athletes. We also paid tribute to the late Congresswoman Patsy Mink, the first woman of color elected to Congress and the woman responsible for Title IX, which opened the doors to girls and women in sports by prohibiting sex discrimination in all federally funded school programs.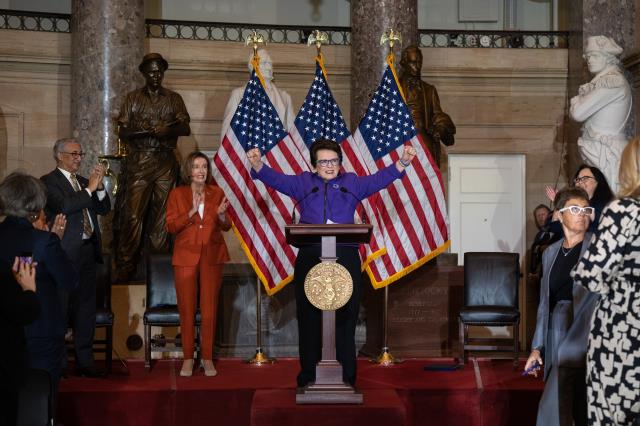 Billie Jean King speaks at the Women's History Month reception.
Telephone Town Hall Meeting
This week I held my weekly Telephone Town Hall Meeting with constituents in Palo Alto and Stanford, with Dr. David Relman, M.D., Chief of Infectious Diseases at the VA Palo Alto, as my special guest. Constituents asked questions about Covid-19, bills I'm working on, and the Russian war on Ukraine. Thank you to the 2,459 constituents who participated. If you missed the meeting you can listen to it here.
In the Words of My Constituents
Every week hundreds of my constituents call and write to me to express their concerns, share their passions, and ask questions regarding legislation and policies. Over 164,662 constituents have contacted me since the beginning of the 117th Congress in January, 2021. I actually read every communication and every constituent receives a personal response to their specific questions and comments from me. This week, 2,211 constituents contacted me about issues including:
225 messages in support of defending Ukraine's sovereignty
 
168 message in support of banning the import of Russia's oil and gas
 
85 messages in support of peace in Ethiopia
Anna in the News
Recommended Reading
# # #
I close with this thought. Always know how deeply grateful I am for the trust you've placed in me to represent you. I work daily to live up to it.
Sincerely, 



Anna G. Eshoo
Member of Congress