Anna's Weekly Report

Dear Friends,

This week Ukrainian President Volodymyr Zelenskyy delivered a sobering virtual address to the entire Congress about Russia's invasion of Ukraine. He thanked the American people, the Congress, and President Biden for the extraordinary military and humanitarian aid we've provided, and he screened a scarring video depicting the brutality of Russia's assault against the Ukrainian people.   

I remain steadfast in my commitment to help the people of Ukraine whose determination to preserve their democracy against Vladimir Putin's unprovoked invasion has inspired the world. That's why I voted this week to suspend normal trade relations with Russia, which will further isolate Russia from the global economy. This builds on the bipartisan package passed last week to ban the import of Russian oil and energy products into the U.S.

On Wednesday President Biden approved an additional $800 million in aid for Ukraine, bringing the total in new U.S. security assistance to Ukraine in just this week to $1 billion. This new aid includes anti-aircraft systems and high-tech drones to help Ukraine protect their airspace. Funding for this comes from the $14 billion emergency aid package for Ukraine that I voted for and Congress passed last week.

Covid-19 Updates

Pfizer announced this week that they are applying for emergency authorization for a second booster shot of their Covid-19 vaccine for adults 65 and older. Moderna also announced they're applying for emergency authorization for a second booster shot for all adults. These second booster shots will now go through an extensive, data-based approval process with the FDA and the CDC, and I will keep you updated as the process moves forward.

Covid-19 cases and hospitalizations across the Bay Area have decreased to the lowest rates since last summer before the delta surge. This is great news for our communities, but given the unpredictability of Covid-19, health experts continue to urge those who haven't been vaccinated or boosted to do so. You can sign up immediately for a free appointment at your county's website below and it's very easy to do.

San Mateo County                Santa Cruz County                Santa Clara County

Major Votes in the House This Week

FAIR Act

In today's economy, signing up for digital services often requires us to agree to lengthy terms and conditions that many users likely ignore and then unknowingly sign away certain rights such as filing a lawsuit or joining a class action. This week I voted for legislation to address this rampant abuse of our legal system by banning mandatory pre-dispute arbitration clauses in employment, consumer, and civil rights cases.

Because arbitration is secretive, lacks important due process protections, and produces decisions that cannot be appealed, it too often shields bad actors from accountability and prevents consumers from enforcing their rights in our justice system. No one should be required to sign away their right to access our justice system when they sign up for a credit card, cell phone plan, or social media account.

Legislation Anna Introduced

The Safe Connections Act

My legislation will help survivors of domestic violence and other crimes cut ties with their abusers by allowing them to more easily separate from shared wireless service plans. While shared phone plans can be a helpful tool to manage several cell phones on one account, they are weaponized by abusers to monitor, harass, and control their partners. Survivors face overwhelming barriers when trying to separate from these plans, including high termination fees and contractual obligations. This bill will help survivors regain digital independence. Learn more here. 

Health Hearing

This week I chaired a legislative hearing of the Health Subcommittee to examine 22 mostly bipartisan bills to speed the discovery of more cures, improve patient representation in clinical trials, and enhance the FDA's ability to fulfill its vital mission of ensuring the safety, efficacy, and quality of America's drug supply. We discussed my legislation to establish an independent Advanced Research Project Agency for Health, ARPA-H, a new effort focused on accelerating biomedical innovation to develop transformative breakthroughs in how we detect and treat the deadliest diseases, including cancer, diabetes, glioblastoma, ALS, and Alzheimer's.

We also discussed my Diverse and Equitable Participation in Clinical Trials (DEPICT) Act, which helps to ensure that all Americans can be confident that their treatments will work for them regardless of race, gender, and age. This reform to improve clinical trial diversity isn't just good sense. It's also good science.

Watch the hearing here.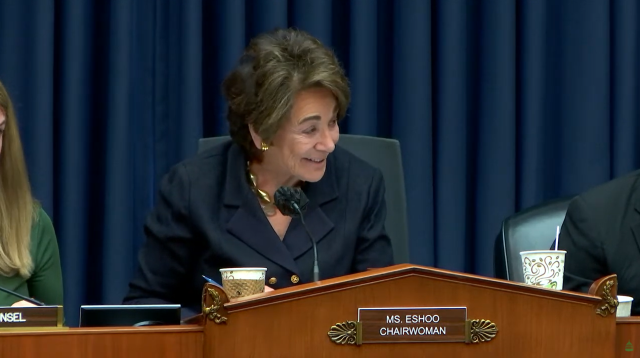 Chairwoman Eshoo holds a hearing of the Health Subcommittee
Forest Fire Roundtable
This week I participated in a roundtable hosted by my colleague Congressman Mike Thompson with the U.S. Forest Service, CalFire, the Bureau of Land Management, and local stakeholders to discuss ways to improve wildfire mitigation in California. I was pleased to be joined by Dave Reid, Director of the Santa Cruz County Office of Response, Recovery and Resilience, and Brian Glass, Acting Chief of the Santa Clara County Fire Department, who shared their experiences addressing wildfire risks in our Congressional District.
We had a productive conversation about what we've learned, what the gaps are, and how best to address them. I look forward to continuing our work to improve wildfire mitigations with federal, state, and local partners.
Roundtable with Start-Ups
This week I met with ten startup companies in our District to hear their views as to how pending legislation would affect competition in the tech industry. Startups are the launching pads of innovation and it's essential to have a consistent and robust pipeline of innovators. I will continue working with our local startups to fuel their important and groundbreaking work.  
Telephone Town Hall Meeting
This week I held my weekly Telephone Town Hall Meeting with constituents in San Jose and Dr. Grace Lee, an infectious disease pediatrician at Lucile Packard Children's Hospital and chair of the CDC's Committee on Immunization Practices, as my special guest. Constituents asked questions about Covid-19, many pending bills in Congress, and the Russian war on Ukraine. My thanks to the 1,946 constituents who participated. If you missed the meeting you can listen to it here.
In the Words of My Constituents
Every week hundreds of constituents call and write to me to express their concerns, share their passions, and ask questions regarding legislation and policies. Over 166,464 constituents have contacted me since the beginning of the 117th Congress in January, 2021. I actually read every communication and every constituent receives a personal response to their specific questions and comments from me. This week, 1,802 constituents contacted me about issues including:
212 messages in support of defending Ukraine's sovereignty
 
172 message in support of U.S. energy independence
 
109 messages in support of the Big Oil Windfall Profits Tax Act
Anna in the News
Recommended Reading
# # #
I close with this thought. Always know how deeply grateful I am for the trust you've placed in me to represent you. I work daily to live up to it.
Sincerely, 



Anna G. Eshoo
Member of Congress