Anna's Weekly Report
Weekly Report
September 23, 2022
 
Dear Friends,
Last weekend I had the privilege of traveling to Armenia as part of a Congressional Delegation to support the U.S.-Armenia relationship and strengthen it. The delegation was led by House Speaker Nancy Pelosi, the highest-ranking U.S. official to visit the Republic of Armenia. Congresswoman Jackie Speier was also part of the delegation and joins me as one of only two Members of Congress of Armenian descent.
It was an honor to visit the homeland of my ancestors to reaffirm the enduring commitment of the U.S. to Armenia's democracy and security. Some three decades ago, Armenia was subject to the repressive rule of the Soviet Union. Today, Armenia is a democracy.
Our delegation is also proud to have led the effort to recognize the Armenian Genocide by passing the 2019 resolution, ending 100 years of U.S. silence.
New Covid-19 Booster Shot
Beginning September 1st there's a new Covid-19 bivalent vaccine available that targets the highly contagious Omicron variant of Covid-19, as well as the original strain of Covid-19. You should get the new bivalent booster if you're 12 years or older and it's been more than two months since your last Covid-19 booster or if it's been at least three months since you had a Covid-19 infection. You can sign up immediately for a free appointment at your county's website below. It's very easy to do. I just received mine.
San Mateo County                 Santa Cruz County                Santa Clara County
Speech on Misinformation
During a debate in a Committee meeting this week I spoke on the urgent need to address the spread of misinformation which is killing Americans and damaging our democracy. As Members of Congress, we have a duty to protect democracy and ensure the free society we live in isn't undermined by lies and disinformation. View my remarks HERE.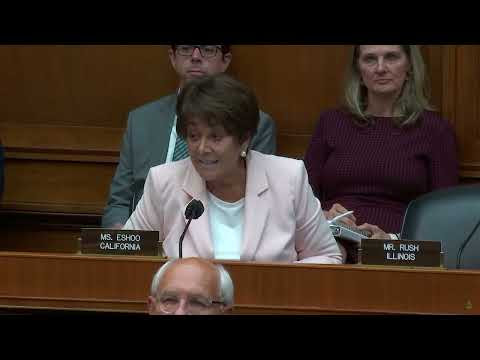 Rep. Eshoo speaking about misinformation at Energy and Commerce Markup
Major Votes in the House This Week
Presidential Election Reform Act
I voted for and the House passed bipartisan legislation to overhaul the archaic law that governs the counting of electoral votes by Congress and the Vice President. The pressing need for this reform was made clear on January 6, 2021, when President Trump pressured the Vice President and Republican Members of Congress to throw out the legitimate electoral votes cast for his opponent and install him as president for a second term, despite losing the election.  
The Presidential Election Reform Act addresses this urgent threat to our democracy by ensuring that the Vice President's role in the count is purely ministerial and that he or she cannot reject or delay the counting of legitimate electoral votes submitted by the states. The bill also requires governors to submit the lawful election results of their state to Congress, preventing future "fake elector" schemes in which the former president urged state officials to submit fake electoral votes supporting him instead of his opponent. These critical reforms will prevent the Vice President and rogue state officials from hijacking the counting of the electoral votes to overturn a presidential election.
Public Safety Bills
I voted for and the House passed four bills to strengthen public safety and reduce gun violence.
          This legislation funds small police departments to train, hire, and retain police officers, with an emphasis on training to deescalate potentially violent situations.
Break the Cycle of Violence Act
This bill funds nonprofit, community and faith-based organizations that work to reduce crime. The funding will support effective, evidence-based community violence intervention programs that reduce gun violence in urban areas.  
Mental Health Justice Act
This bill funds mental health provider first responder units. With this funding, state and local governments will be able to send trained mental health professionals when 911 is called because an individual is experiencing a mental health crisis. Sending trained mental health professionals helps people get the care they need and makes our communities safer.
The bill helps police departments hire, train, and retain detectives and victim services personnel to reduce the backlog of unsolved shootings and support gun violence victims and their families.
U.S. Commission on International Religious Freedom
The House passed my bipartisan legislation to reauthorize the U.S. Commission on International Religious Freedom (USCIRF), an independent commission dedicated to promoting religious freedom as a core objective of U.S. foreign policy. The USCIRF monitors religious freedom conditions around the world, issues an annual report and other publications, advises Congress and Executive Branch officials, and raises public awareness about religious freedom abroad.
Peace Corps Reauthorization
I voted for and the House passed legislation to reauthorize and provide additional resources to the Peace Corps. In 1961, President Kennedy challenged Americans to serve their country by promoting peace and service through the Peace Corps. Since then, more than 240,000 volunteers have committed themselves to advancing the Peace Corps' mission, including my son. As a Peace Corps mom, I'm especially proud to advance this legislation to support such an important and highly effective program.
Legislation Anna Introduced This Week
Jackie Walorski Maternal and Child Home Visiting Reauthorization Act
I introduced legislation this week to reauthorize the Maternal, Infant, and Early Childhood Home Visiting (MIECHV) program. The program aids new parents and their children from before birth through kindergarten with in-home support that has been proven to improve maternal and children health, family safety and stability, child development, and school readiness. The bill honors Congresswoman Walorski, who died in a car crash in early August this year.
COVID Tax Relief 
To help taxpayers affected by the Covid-19 pandemic, the IRS is waiving almost all late penalties for individuals and businesses for tax years 2019 and 2020. Relief is automatic. Unpaid penalties will be abated or refunds will be issued for penalties already paid. Nearly 1.6 million taxpayers will automatically receive more than $1.2 billion in refunds or credits and many of these payments will be completed by the end of September. Visit IRS.gov/penaltyrelief for details.
In the Words of My Constituents
Every week hundreds of constituents call and write to me to express their concerns, share their passions, and ask questions regarding legislation and policies. Over 242,059 constituents have contacted me since the beginning of the 117th Congress in January 2021. I actually read every communication and every constituent receives a personal response to their specific questions and comments from me. This week, 2,954 constituents contacted me about issues including:
114 messages in opposition to Senator Manchin's permitting reform proposal
 
99 messages in support of capping out-of-pocket spending for insulin at $35 a month for patients with private insurance
 
80 messages in support of the Ban All Neurotoxic Organophosphate Pesticides from our Food Act
Anna's Work in the News
Recommended Reading
# # #
I close with this thought. Always know how deeply grateful I am for the trust you've placed in me to represent you. I work daily to live up to it.
Most gratefully, 

Anna G. Eshoo
Member of Congress