Anna's Weekly Report

Weekly Report
June 24, 2022
Dear Friends,
Today, for the first time in our nation's history, the Supreme Court eliminated a constitutional right. This decision is cruel. With Roe gone, Republicans will now charge full speed ahead with their plans to ban abortion nationwide, be able to arrest doctors for offering reproductive care, and criminalize contraception, including in-vitro fertilization and post-miscarriage care.
As I write to you, 26 states are poised to severely restrict, outlaw, or even criminalize abortion, putting at least half of the women of reproductive age in the United States at risk of losing abortion access. I'm devastated that my daughter now has less freedom than I did.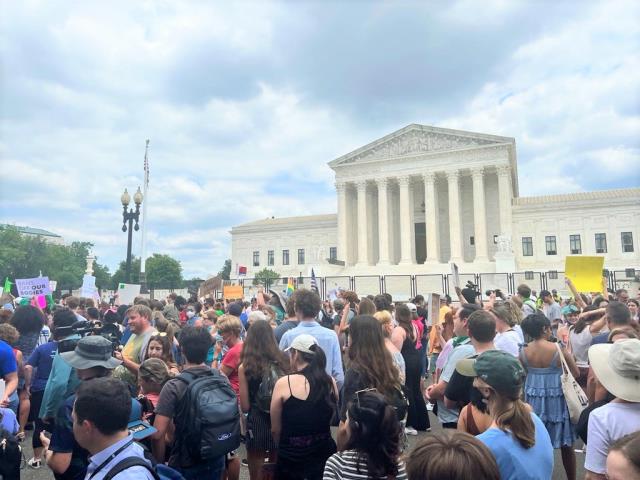 Pictured: Protesters outside the Supreme Court on June 24, 2022
The dissent from Justices Breyer, Sotomayor, and Kagan says:
"Whatever the exact scope of the coming laws, one result of today's decision is certain: the curtailment of women's rights, and of their status as free and equal citizens."
The Court's approach jeopardizes every right grounded in personal privacy, including contraception, gay marriage, and interracial marriage. Justice Clarence Thomas has already stated he believes the Court should go after contraception and same-sex marriage next. This horrifying decision affects all of us.
Quoting an earlier ruling by Justice Thurgood Marshall, the three dissenters wrote:
"Power, not reason, is the new currency of this Court's decision making."
I think the Court has put itself on trial by ignoring the sentiments of the American people.
Democrats will not stop fighting to enshrine Roe v. Wade into law, and I believe voters will not let this stand come November.
• • • • • • • • • • • • • • • • • • 
This week Congress passed a bipartisan gun reform bill for the first time in three decades. The commonsense legislation takes steps to prevent criminals from possessing guns, invests in mental health programs, and strengthens school safety.
Specifically, the bill:
invests millions of dollars in mental health care;

prevents domestic abusers from getting guns;

supports evidence-based school security;

criminalizes gun trafficking across state lines and straw purchases, which occur when an individual purchases a firearm on behalf of someone else who is prohibited by law from owning a gun;

provides funding to encourage states to pass red flag laws, which prevent those who pose a threat to themselves or others from being able to legally possess a firearm; and

expands background checks for those 18 to 21 years old by incentivizing states to provide access to the FBI of previously sealed juvenile records and mental health records.
I think this legislation is an important step in the right direction, but I also think much more needs to be done to address gun violence, including banning assault weapons, taking ghost guns off the streets, and enacting universal background checks on gun shows and online sales.
Covid-19 Update
This week the first vaccinations for children under 5 years old were administered. This is a momentous step forward in our fight against Covid-19. Now, nearly every family member can get vaccinated. If you or your children have not yet been vaccinated or received your booster, you can sign up immediately for a free appointment at your county's website below. It's very easy to do.
San Mateo County                Santa Cruz County                Santa Clara County
Major Votes in the House This Week
ARPA-H
I'm very proud that this week one of my top legislative priorities passed the House with a strong bipartisan vote of 336-85: H.R. 5585, the Advanced Research Projects Agency-Health (ARPA-H) Act. The legislation creates an independent health agency focused on accelerating transformative breakthroughs in how we detect and treat the deadliest diseases. This bill has been in the works since March 2021 when I met with President Biden and a bipartisan, bicameral group of lawmakers to discuss creating ARPA-H as part of the President's "Cancer Moonshot" initiative to cure cancer.
Modeled after the highly innovative and successful Defense Advanced Research Projects Agency (DARPA), which developed technology such as the internet, GPS navigation, and mRNA vaccines, ARPA-H will be a small, independent agency with a mighty mission: to cure and treat the world's deadliest diseases, such as pancreatic cancer, Alzheimer's disease, ALS, and glioblastoma. This agency will be a beacon of hope to not just the American people, but to the world, because when the U.S. innovates, it's for the betterment of humankind.
The bill now heads to the Senate.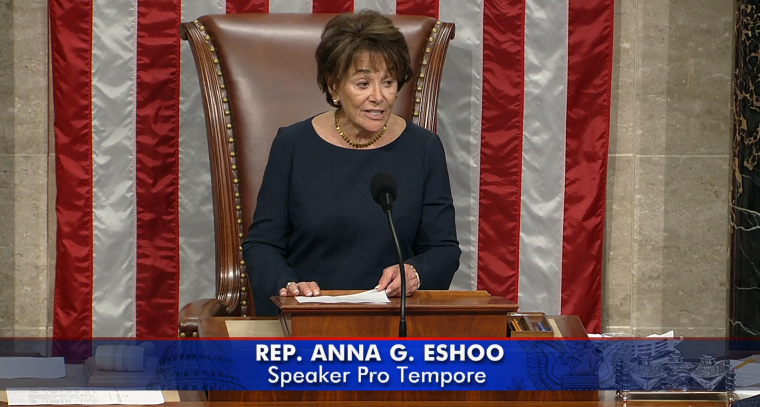 Congresswoman Eshoo presiding over the House floor on Thursday, June 23rd.
Mental Health Legislation
The House also passed H.R. 7666, the Restoring Hope for Mental Health and Well-Being Act, bipartisan legislation that I moved through my Health Subcommittee to confront the mental health and substance use disorder crisis facing our nation. The bill bolsters crisis resources including suicide prevention, mental health support, substance use disorder services, and recovery housing. It also addresses the opioid epidemic by expanding access to life-saving treatments and strengthening training requirements for practitioners; invests in the behavioral health workforce; and strengthens pediatric mental health care, Medicaid behavioral health services and suicide prevention resources for college students.
LGBTQI+ Data Inclusion Act
This week I voted for a bill that requires federal surveys to collect voluntary information on sexual orientation, gender identity, and variations in sex characteristics. The purpose in collecting this information is to better tailor policy solutions and address the most pressing issues facing the LGBTQI+ community. Better data = better policy.
January 6th Committee Public Hearings
This week the Select Committee to Investigate the January 6th Attack on the U.S. Capitol held their fourth and fifth hearings. We heard captivating testimony from Republican officials who were pressured to undermine the election but kept with their oath to uphold the Constitution, including former Acting Attorney General Jeffrey Rosen and former acting Deputy Attorney General Richard Donoghue. The witnesses detailed how the former president was personally involved in the effort to advance alternate slates of fake electors to replace the legitimate electors representing 81 million voters.
The Committee also established that the former president threatened to oust Acting Attorney General Jeffrey Rosen in favor of someone willing to pursue his claims of election fraud. "The lie hasn't gone away. It's corrupting our democratic institutions," said Committee Chairman Bennie Thompson. You can watch this week's hearings here.
Edgewood Fire Evacuation
On Tuesday afternoon, a six-alarm fire caused by the Edgewood Fire forced evacuations and power outages in Emerald Hills in San Mateo County. The fire burned at least 20 acres in the areas around Maple Way. Thanks to the heroic efforts of our firefighters, one of whom was injured and received treatment at Stanford Hospital, evacuation orders were lifted in a matter of hours, and as I write to you, the fire is 98 percent contained.
It was a terrifying incident for many of my constituents and a stark reminder that fire season is upon us and we need to be ready. I encouraged PG&E to restore power to constituents experiencing outages in Emerald Hills as quickly as possible and I'm pleased they provided emergency generators to restore power.
Visit ready.gov/wildfires for tips on how to prepare for future wildfires, including how to recognize warning signs, sign up for alerts, protect your home, and navigate evacuation zones.
 In the Words of My Constituents
Every week hundreds of constituents call and write to me to express their concerns, share their passions, and ask questions regarding legislation and policies. Over 179,301 constituents have contacted me since the beginning of the 117th Congress in January 2021. I actually read every communication and every constituent receives a personal response to their specific questions and comments from me. This week, 1,671 constituents contacted me about issues including:
339 messages in support of codifying Roe v. Wade in federal law

105 messages in support of lowering reporting requirements for online sales

93 messages in support of electrifying the postal fleet
Anna's Work in the News
Recommended Reading
# # #
I close with this thought. Always know how deeply grateful I am for the trust you've placed in me to represent you. I work daily to live up to it.
Sincerely, 



Anna G. Eshoo
Member of Congress