Anna's Weekly Report
Weekly Report
June 17, 2022
 
Dear Friends,
This week parents finally got the news they've been waiting for: the Moderna and Pfizer
Covid-19 vaccines have been authorized for children 6 months to 5 years old and vaccinations could start as early as next week. With this announcement, nearly every American is now eligible to be vaccinated.
If you have not yet been vaccinated or received your booster, you can sign up immediately for a free appointment at your county's website below. It's very easy to do.
San Mateo County                Santa Cruz County                Santa Clara County
January 6th Committee Public Hearings
This week the Select Committee to Investigate the January 6th Attack on the U.S. Capitol held their second and third hearings: Through riveting testimony, it was established that President Trump knew he lost the 2020 election but continued to spread false claims of election fraud and plotted to overturn the results of the election.
Chairman Bennie Thompson leads the third public hearing of the Select Committee to Investigate the January 6th Attack on the U.S. Capitol.
The Committee also revealed that the former president defrauded supporters who contributed $250 million to the "Official Election Defense Fund," but the funds were funneled to the Save America PAC and the Trump Hotel. As Congresswoman Zoe Lofgren, member of the January 6th Committee said during the hearing, "the Big Lie was also a big ripoff." You can watch this week's hearings here.
Major Votes in the House This Week
Lower Food & Fuel Costs Act
This week I voted for a package of bipartisan bills aimed at lowering the price of groceries and gas. The legislation promotes competition in the meatpacking industry by giving the U.S. Department of Agriculture authority to challenge anti-competitive practices instead of referring cases to the Justice Department, which it is required to do under current law. It also allows 15% ethanol gasoline, a cleaner fuel option and approximately 40 cents cheaper per gallon than regular gasoline to be sold year-round.  
Recovering America's Wildlife Act                                                                       
I voted for the Recovering America's Wildlife Act, legislation that provides $1.3 billion to states to conserve and restore wildlife habitats. The funding will be used to carry out wildlife conservation plans; combat invasive species; engage in law enforcement activities directly related to conservation; conduct education and recreational programs associated with wildlife; and implement programs to address wildfires, drought, and climate change. The bill requires that at least 15 percent of the funds be spent on species listed under the Endangered Species Act or considered threatened or endangered. This legislation is the most significant investment in wildlife and habitat conservation in a generation.
Committee Action
Communications and Technology Mark Up
Two of my bipartisan bills moved forward this week: the Safe Connections Act and the Next Gen 911 Advancement Act. Survivors of domestic violence face overwhelming barriers when trying to leave their abusers, including being stuck in shared phone plans that abusers can use to monitor, harass, and control them. Phone companies can charge up to $350 to cancel a phone plan, and tack on additional up-front fees.
The Safe Connections Act ensures that survivors can remove themselves from shared phone plans without prohibitive costs and enroll in the Lifeline Program or the Affordable Connectivity Program to obtain new phones or phone services at discounted prices.
The Next Gen 911 Advancement Act modernizes 9-1-1 call centers, most of which are still using the same legacy technology that was in place when the first 9-1-1 call was made over 50 years ago. This technology will allow our emergency communication centers across our Congressional District to receive real-time location information, text messages, photos, and video from individuals at the scene of an emergency and share that information with first responders in the field to help them better respond to an emergency.
This means if someone breaks into your home and you're hiding from the intruder, you can text 9-1-1 while you continue to hide. You'll be able to send pictures or livestream videos from the scene of an accident to help first responders respond to emergencies.
While California has started the process of transitioning some communication centers to Next Gen 9-1-1 in our region, this funding will speed up the process and help states nationwide upgrade their systems. This technology could make the difference between life and death.
Honest Census Communications Act
This week my legislation, the Honest Census Communications Act, which bans all forms of disinformation about the Census, passed the House Oversight and Reform Committee. America's founders included the decennial Census in the Constitution because a representative democracy depends on an accurate count of its people. This legislation ensures that any attempt to intentionally spread lies about the once-in-a-decade count is met with consequences befitting this crime. Next step is for the legislation to be voted on by the full House of Representatives.
Hearing on Privacy Legislation
This week I participated in a hearing of the Subcommittee on Consumer Protection and Commerce to review the American Data Privacy and Protection Act, legislation that establishes a national framework to strengthen data privacy and security. The draft legislation discussed at the hearing is similar to the Online Privacy Act which I introduced in 2019 with Congresswoman Lofgren and which academicians have called the most comprehensive privacy bill in Congress. The hearing built on my work to ensure Congress passes strong and enforceable privacy legislation that secures user data, requires companies to minimize collection of personal data, and gives users access to and control of their data. You can watch the hearing here.
Letters Anna Sent this Week
Federal Firefighter Pay
I sent a letter this week to the Biden Administration requesting immediate implementation of federal firefighter pay increases included in the Bipartisan Infrastructure Law that Congress passed last November. Current pay rates for federal firefighters are creating significant challenges with recruiting and retention. Congress authorized funding in the Bipartisan Infrastructure Law to help address the staffing shortages that persist throughout the federal land management agencies and those funds have not yet been distributed to the heroes that deserve them. The longer it takes to put these pay raises in place, the more difficult it will be to meet the staffing levels necessary to confront this year's wildfires which are already burning.
Celebrating Juneteenth
On June 19, 1865, two years after President Lincoln signed the Emancipation Proclamation, enslaved people in Texas learned of their freedom. They were among the last enslaved people in America to be freed, ending one of the darkest chapters in American history. This weekend we celebrate Juneteenth which Congress established as a federal holiday last year.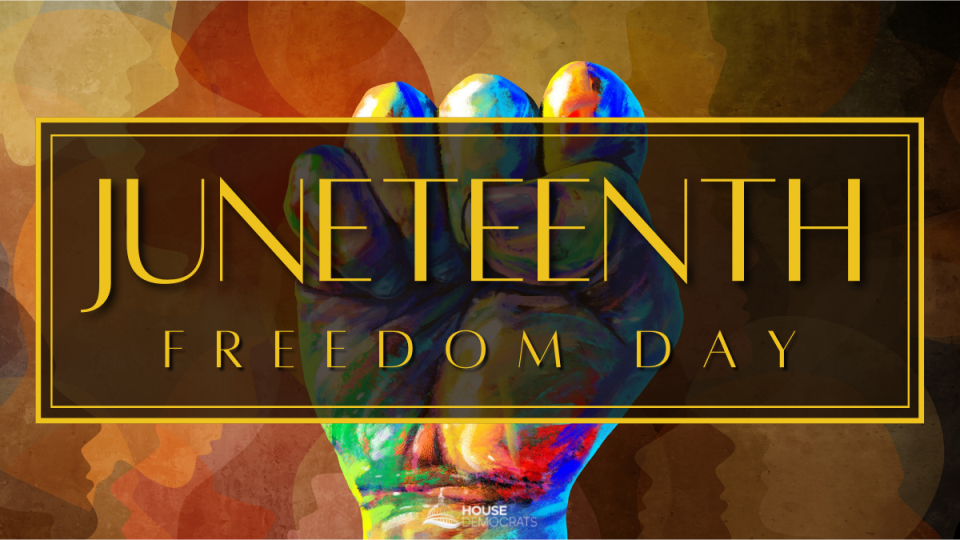 Congressional App Challenge
This week I announced the launch of the 8th Annual Congressional App Challenge for the 18th Congressional District. I established this nationwide challenge in 2013 to invite high school and middle school students from across the country to compete by creating and exhibiting their software application, or "app," for mobile phones, tablets, or computers. This is a unique opportunity for students, regardless of their level of coding expertise, to turn their creative ideas and talents into apps that provide real-life solutions to problems they see in their communities. Learn more about the competition and how to apply here.
In the Words of My Constituents
Every week hundreds of constituents call and write to me to express their concerns, share their passions, and ask questions regarding legislation and policies. Over 188,978 constituents have contacted me since the beginning of the 117th Congress in January 2021. I actually read every communication and every constituent receives a personal response to their specific questions and comments from me. This week, 2,492 constituents contacted me about issues including:
261 messages in support of the Recovering America's Wildlife Act
 
145 messages in support of the Judicial Ethics and Anti-Corruption Act
 
70 messages in support of reforming our nation's gun laws
Anna's Work in the News
Recommended Reading
# # #
I close with this thought. Always know how deeply grateful I am for the trust you've placed in me to represent you. I work daily to live up to it.
Sincerely, 


Anna G. Eshoo
Member of Congress