Anna's Weekly Report

Dear Friends,
This week the House voted on several key pieces of legislation and the Senate took up legislation to ensure the U.S. pays its bills. The House held former White House Chief of Staff Mark Meadows in contempt of Congress for failing to comply with a congressional subpoena duly issued by the Select Committee to Investigate the January 6th Attack on the United States Capitol. We also voted on legislation to hold the Chinese Communist Party accountable for its gross violations of human rights against the Uyghur people and other Muslim minorities in western China.

Members gathered on the floor for a moment of silence in honor of the over 800,000 precious lives lost in our country to Covid-19. Those lost were grandparents, sisters, brothers, parents, friends, and neighbors. As we mourn their loss, we must do everything we can to prevent further loss of life. Please, get vaccinated and get your booster shot.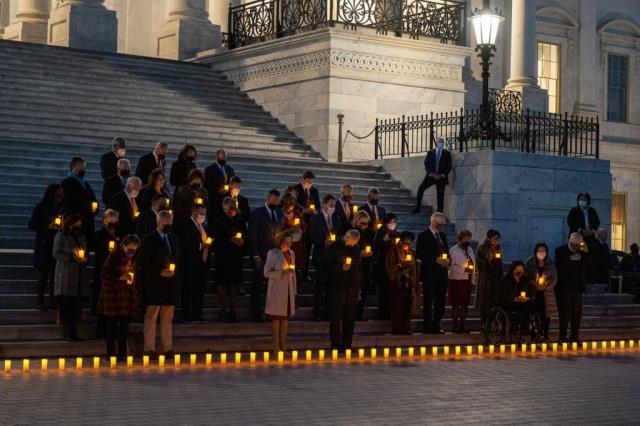 •  •  •  •  •  •  •  •
As this very busy and challenging year comes to a close, I want to highlight the accomplishments of 2021.
In Our Congressional District
Federal Grants
This year, I've worked to bring $629.7 million in federal grants to our district to researchers and academicians, municipalities, theaters, libraries, museums, small businesses, transportation agencies, water districts, nonprofits, and other organizations.
Telephone Town Hall Meetings
I've held 20 Telephone Town Hall Meetings, including one this week, contacting thousands of constituents in every community in our District. I also held a Virtual Town Hall with Dr. Anthony Fauci with over 2,000 constituents. You can listen to all of the audio recordings here.
Constituent Work
Over 47,899 constituents have contacted me so far this year, and I personally read and respond to every single message. My Palo Alto office has also assisted over 9,283 constituents navigate issues with federal agencies, including helping with Social Security benefits, the IRS, visas, passports, and assistance for veterans.
This has been a difficult year for everyone, and especially tough for some families in our community. My office always stands ready to help you.
Key Legislative Wins
Under the leadership of Democrats, the House passed the following major bills this year to invest in our country, our people, and our democracy…
H.R. 1319 – American Rescue Plan: Lifesaving legislation that provided urgently needed resources to defeat the virus, put more vaccines in people's arms, money into families' pockets, get children safely back into classrooms and people back to work. The law sent $575,555,116 to CA-18 to help our communities address the pandemic. This bill was signed into law.
 
H.R. 5376 – Build Back Better Act: This bill is an economic launching pad for the middle class and working families. The bill invests in climate change mitigation, child care, lower drug prices, a stronger workforce, affordable health care, tax cuts for the middle class, and education that will fuel transformative changes in the lives of America's families.
 
H.R. 3684 – Infrastructure Investment and Jobs Act: The largest investment in public transit and water infrastructure in history that will create two million new jobs per year for a decade. It tackles the climate crisis by making a substantial investment in clean energy, includes $8 billion for wildfire prevention, and invests over $6.5 billion in clean water. This bill was signed into law.
 
H.R. 1 – For the People Act of 2021: A sweeping anti-corruption package to protect and expand voting rights, restore integrity to government, reform our campaign finance system, and put the needs and priorities of the American people first. The legislation includes two of my bills – the Presidential Tax Transparency Act, legislation requiring sitting presidents, vice presidents and major party candidates for both offices to publicly disclose their 10 most recent federal income tax returns, and the Election Day Holiday Act, legislation to make Election Day a federal holiday.
 
H.R. 4 – John R. Lewis Voting Rights Advancement Act of 2021: Legislation to restore critical protections of the Voting Rights Act of 1965 and protect the right to vote for all Americans. Amid the most pernicious state-level efforts to restrict the right to vote in generations, H.R. 4 would prevent states and localities with a recent history of voter discrimination from restricting the right to vote by requiring these jurisdictions to obtain federal preclearance before changing their voting laws.
 
H.R. 5 – Equality Act: Legislation to explicitly prohibit discrimination on the basis of sexual orientation and gender identity in education, employment, housing, credit, jury service, public accommodations, and the use of federal funds.
 
H.R 6 – American Dream and Promise Act of 2021: Legislation that establishes a path to citizenship for Dreamers and for certain individuals who were eligible for Temporary Protected Status (TPS) or Deferred Enforced Departure (DED).
 
H.R. 7 – Paycheck Fairness Act: Legislation to close the gender pay gap by banning salary secrecy, increasing penalties for employers who retaliate against workers who share wage information, and allowing workers to sue for damages of pay discrimination.
 
H.R. 8 – Bipartisan Background Checks Act of 2021: Legislation to require a background check for every gun sale or transfer, with some carefully defined exceptions such as gifts to family members and temporary transfers for purposes such as hunting, target shooting, and self-defense.
 
H.R. 1280 – George Floyd Justice in Policing Act of 2021: Legislation to hold police accountable, end racial profiling, change the culture of law enforcement, and build trust between law enforcement and communities by addressing systemic racism and bias.
 
H.R. 842 – PRO Act of 2021: Legislation to strengthen the basic right of workers to organize and negotiate for higher pay, better benefits, and safer working conditions.
Major Bills Anna Introduced
I sponsored and co-led 32 bills this year and cosponsored 354. Some of the bills I've introduced include…
H.R. 6027 – Online Privacy Act: Protects the American people's right to privacy by ensuring every person has control over their own data, companies are held accountable for privacy intrusions, and the government provides tough but fair enforcement.
 
H.R. 5585 – ARPA-H: Creates the Advanced Research Projects Agency for Health (ARPA-H), an independent health agency focused on accelerating biomedical innovation to develop transformative breakthroughs in how we detect and treat the deadliest diseases. I met with President Biden in March 2021 as part of a bipartisan, bicameral group of lawmakers to discuss ARPA-H and have worked since then to craft legislation.
 
H.R. 4641 – Smoke Planning and Research Act: Funds research on the impact of wildfire smoke, and provides grants to local governments to respond to smoke, creating shelters for at-risk populations and retrofitting schools with air filters.
 
H.R. 1631 – Community Broadband Act: Empowers communities to ensure residents have broadband access by removing roadblocks for public-private partnerships and locally-owned broadband systems.
 
H.R. 222 – Election Day Holiday Act: Establishes Election Day as a federal holiday. This legislation passed the House as part of the For the People Act.
 
H.R. 3919 – Secure Equipment Act: Strengthens U.S. telecommunications networks by prohibiting equipment manufactured by entities that are a threat to our national security. This legislation was passed and signed into law.
H.R. 347 – Presidential Tax Transparency Act: Requires all future candidates for the presidency and vice presidency to release their tax returns. This legislation has passed the House as part of the Protecting Our Democracy Act.
# # #
I close with this thought. Always know how deeply grateful I am for the trust you've placed in me to represent you.
Sincerely, 



Anna G. Eshoo
Member of Congress